Company founder: Roger Nott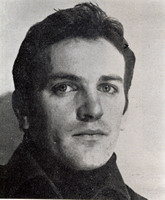 After completing his studies at the Welsh College of Music and Drama in 1964, Roger was awarded a BBC Drama Scholarship, guaranteeing a year's work with the BBC and the Welsh Theatre Company. His work prior to found the company included seasons with The Oxford Playhouse, Royal Court Theatre (London), Welsh Theatre Company and the Welsh Artists' Workshop. His TV appearances includedDixon of Dock Green, Z Cars and One of the Family. Subsequent TV appearances include The Regiment, Softly Softly, The Onedin Line, The Professionals, Dr Who, Minder and The Bill.

In the early 1980's Roger understudied Richard Harris in Camelot in the West End, making four appearances for Harris. Roger also toured the USA with a one man show on Richard Burton.

One of Roger's greatest acting successes was persuading director John Schlessinger that he was American and securing a part in "Yanks" for his trouble.

Roger was seen most recently in "Skimming Pebbles" for the BBC.

Christine Nott

It would be remiss of me if I did not give credit to Christine Nott here.
Chris was Company Secretary but served the company in so many more ways over the years. The company would not have survived its term withour her input and sheer hard work.